Fewer costs, more swim time!
THE LAWS OF NATURE and SOLAR POOL HEATING
Solar heating can lower your energy costs, extend your swim season,
raise the value of your property and last but not least, shrink your carbon footprint.
In brief, it's worth investing in a solar pool heater!
So how do solar pool heaters work?
When the sun rises, the system kicks in!
The solar panels absorb the sunlight, and its warming energy passes through narrow tubes set in the panels. While this is happening, the pool's pump circulates water through the tubes to the solar panels and the water is automatically recirculated again and again, until it reaches the desired, previously determined temperature. At this time the pool is filled with warm water.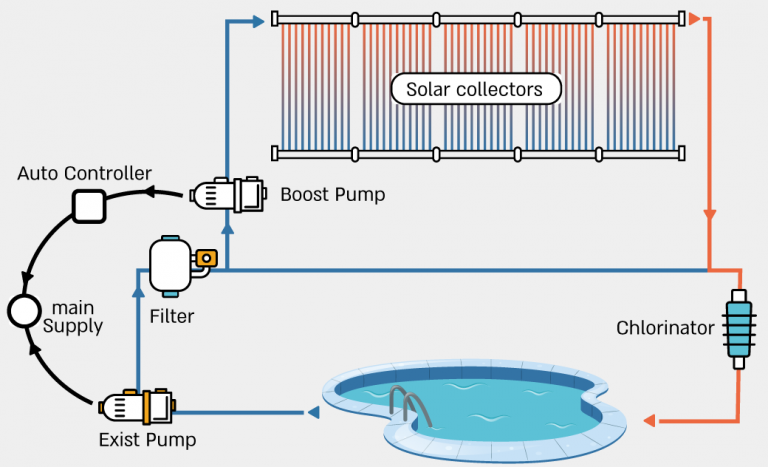 WHY IS SOLAR POOL HEATING THE MOST ADVANCED and BENEFICIAL POOL HEATING SOLUTION?
Here's everything you need to know.
The sun's natural energy is used by the solar pool heating systems to warm your pool; there's no air pollution and your carbon footprint is reduced. It's environmentally friendly!
A solar pool heater pays for itself over time after the initial investment in installation and materials.
Solar pool heating systems cycle warm water continuously for year-round pool enjoyment, keeping your pool warmer by efficiently heating the water as it moves up through the panel and flows back into your pool warmed and ready for you to enjoy!
Investing in solar pool heating can significantly increase the value of your home as there is an increasing demand for solar use in homes.
There are no internal controls, wiring or moving parts and the solar pool heating system can tolerate a wide range of pH and pool water chemistry.
Find out why HELIOCOL is the best
solar pool heating system for your swimming pool